A pleasant volume to create an enjoyable atmosphere
Highly customizable design according to your needs
Pre-save a configuration for every use-case
The atmosphere created by music can significantly increase browsing time and the frequency of customer visits. Furthermore, studies have shown that music has a very positive effect on buying behaviour. Whatever audience you are targeting, the transmission quality and individual choice of background music is key to the success of any restaurant or shop design. And at TOA it's about much more than music. Our sound systems also ensure that announcements are crystal clear. Whether you're informing your customers about irresistible offers or calling staff – we offer a range of solutions for restaurants and retail. We work together with you to find a sound concept perfectly tailored to your needs.
Get your customised solution for Commercial Audio
TOA offers commercial audio systems matching perfectly to your business demands, your budget and the size of your project.
---
Single Audio Broadcasts / Basic Audio Routing - DIGITAL MIXER AMPLIFIER
In smaller places such as shops, cafés or restaurants it is important that the level of background music is nothing more than perceptible ambience to create an enjoyable atmosphere. Announcements can then be well understood at a pleasant volume. The perfect solution for such small projects is an installation with a digital mixer amplifier as the core unit. It is fed by different audio sources as inputs and needs a suitable speaker system as output. The high cost-benefit-efficient Digital Mixer Amplifier A-2000D series is suitable for broadcasting paging or background music. Equipped with balanced microphone inputs for better protection from external noise, it comes with power outputs from 30 W to 240 W.

For more audiophile users, the Digital Mixer Amplifier A-5000D brings easy-to-use DSP functions that can be controlled with PC or IPad.
If you need to deal with more than one zone or you simple need more output power, you might have a look at the Digital Mixer Amplifier A-3000D series. These amplifiers come with a set of handy features like priority functions and remote power control, which also make them very useful as separate substations of bigger PA systems. These cost-effective solutions allow to route one background music source to up to five zones.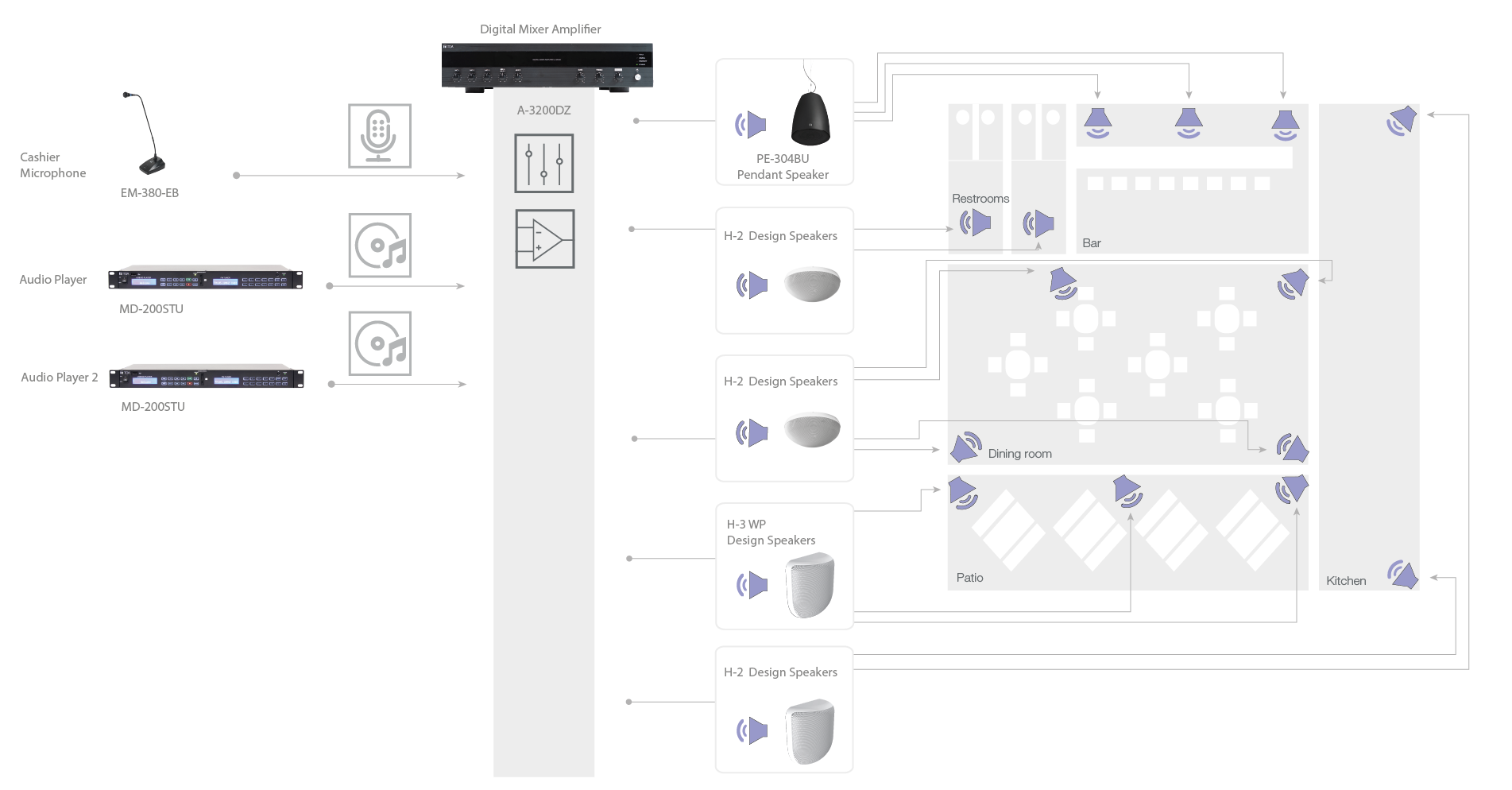 ---
Parallel Audio Broadcast / Advanced Audio Routing - DIGITAL MULTICHANNEL MIXER AMPLIFIER
Now you want to play Sinatra at the bar, Taylor Swift in the dining and Elvis Costello in the patio? No Problemo for our compact Multi-Channel Matrix Amplifier MA-725F. Control the sound source and volume in four zones separately via easy-to-use web Interface, control panels or self-explaining on the device itself. You may choose Sound Presets to optimize sound for any TOA Speaker. For most clear, bold sound, we recommend the Box Speaker F-2000T or Ceiling Speaker F-2352C. Both have a wide transmission range and a balanced sound. Availability as water-proofed versions for outdoor areas makes them perfect for installation in the various areas of your restaurant.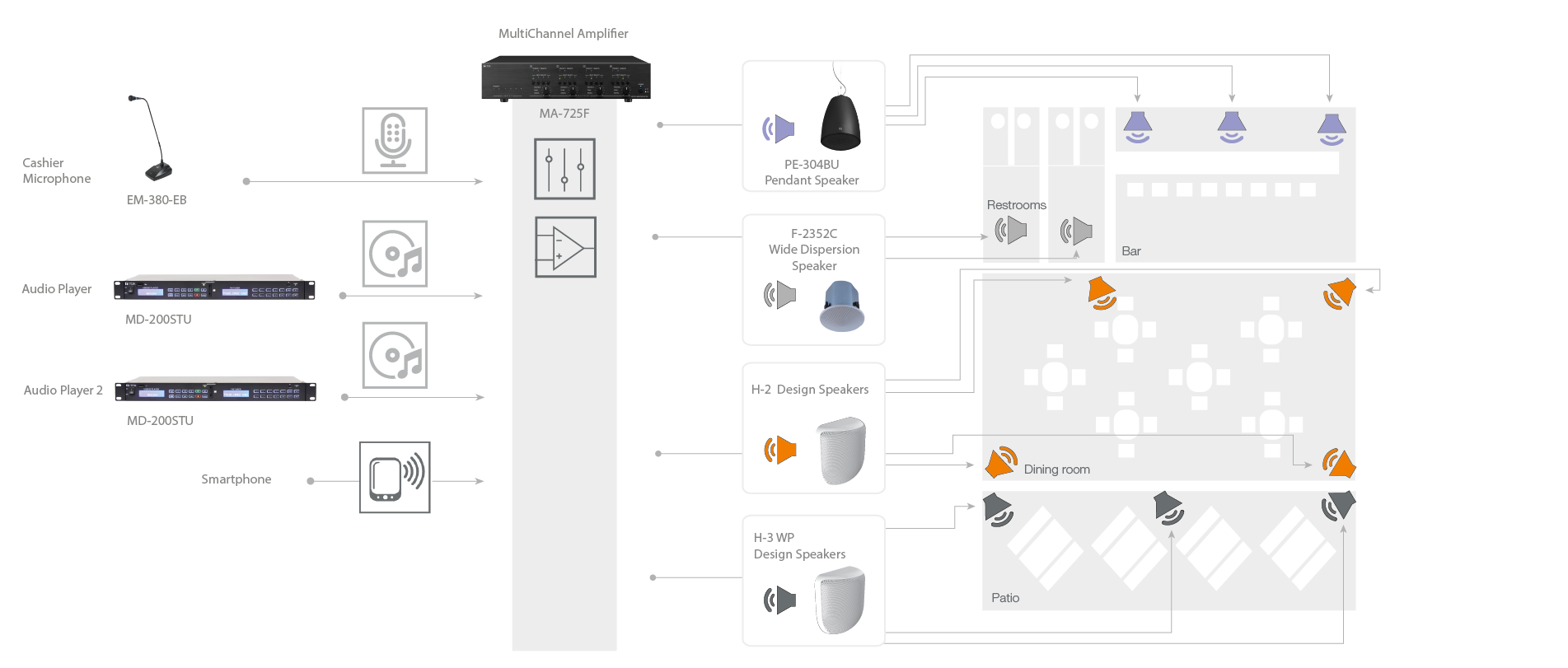 Digital Mixer M-8080D offers even more possibilities of up to 8 output zones. You receive a powerful DSP for in-depth sound control via PC Software. In everyday use, you can use special paging microphones or touch-enabled wall terminals to control music distribution and paging. For this system, you need external amplifiers as the four-channel Digital Power Amplifiers DA-500FH for High-Z speakers.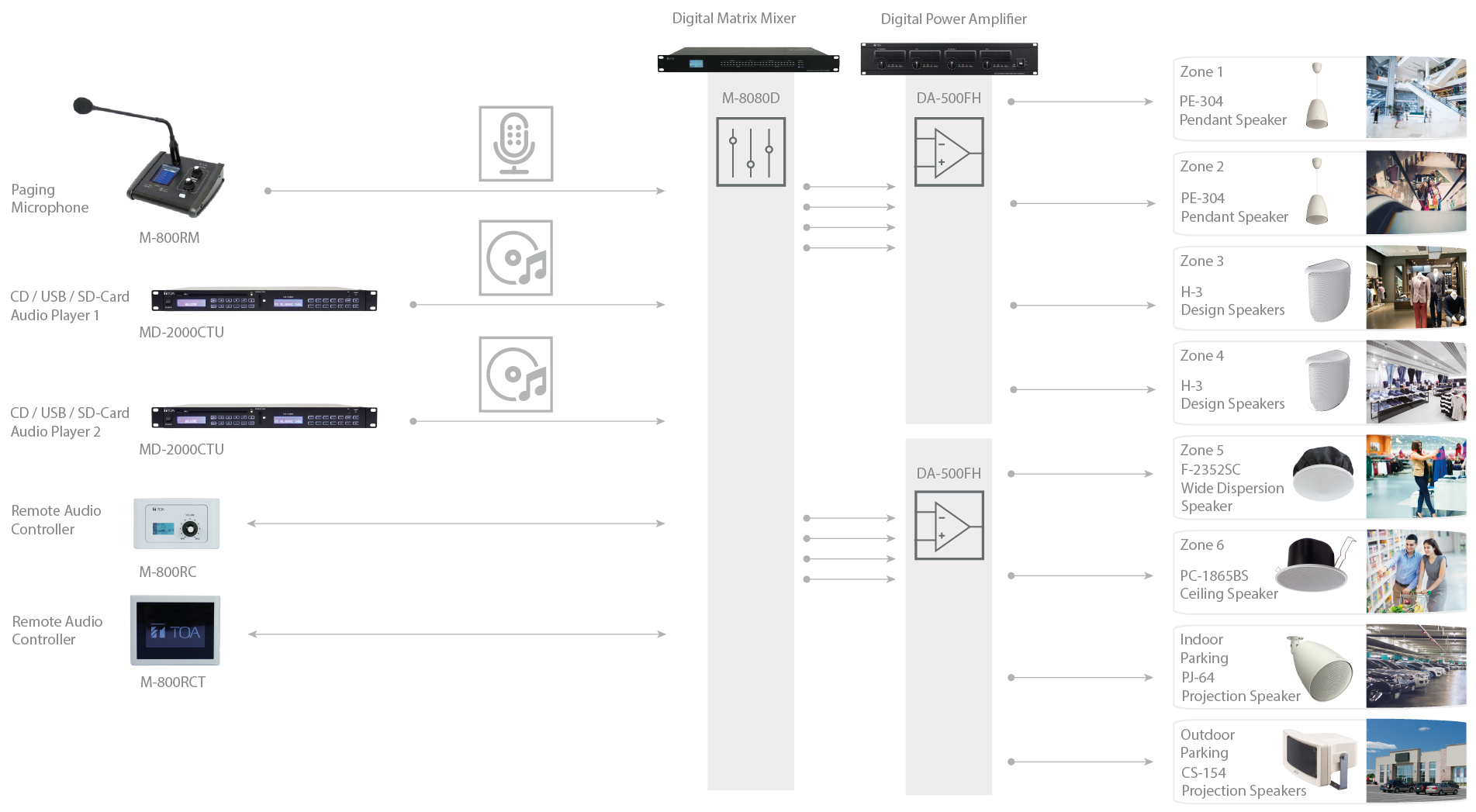 ---
Multiple Audio Broadcast \ Simple to very complex Audio Routing – Voice Alarm System
Of course, all our Voice Alarm Systems can also be used for music distribution. Choosing one of these is a safe bet for larger scale distribution in more than eight zones. But they also have their appeal for smaller projects, since they come with programmable remote microphones, integrated audio player for pre-recorded messages and amplifiers in one compact device. Besides, the certification to EN 54-16 standard offering highest level of security including solutions for backup in case of power loss.
Our Integrated Voice Evacuation System VM-3000 is a cost-solution for small to medium sized applications as schools, shopping centres, hotels or restaurants with up to 60 zones. The compact design and easy installation enable an intuitive and user-friendly configuration through dedicated PC-Software. Moreover, basic music distribution can be controlled directly at the device.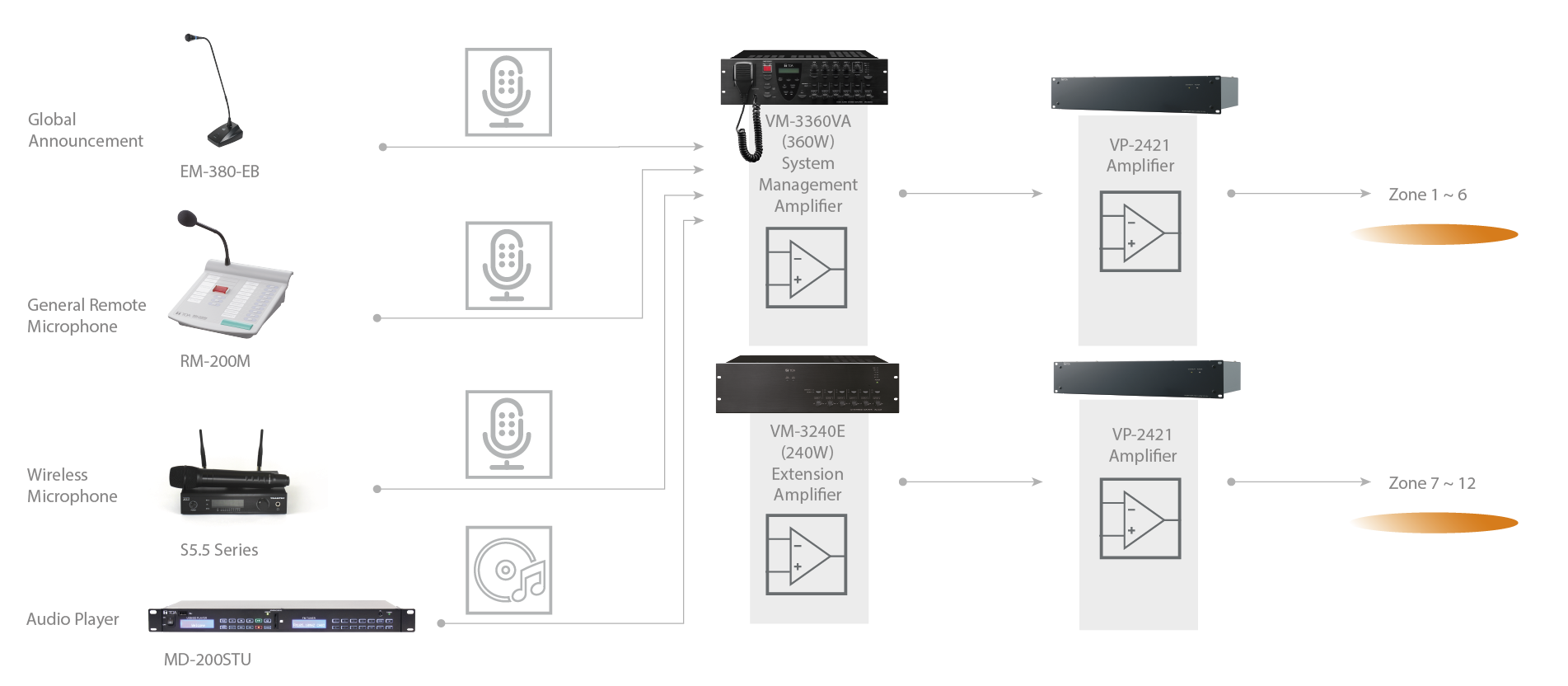 Our state-of-the-art Highly Integrated Voice Evacuation System VX-3000 system combines best of all systems. With integrated timer and audioplayer for up to 1024 files in every single frame, even the smallest system is an all-in one PA. Fully IP-based, it can be scalable up to the maximum and can even combine various buildings of a single complex. Fully functional DSP control allows professional sound in every zone. You may taylor all aspects of broadcasting according to your needs using the full set of option offered by the software. A Maintenance-friendly interface allows quick troubleshooting in even most complex systems.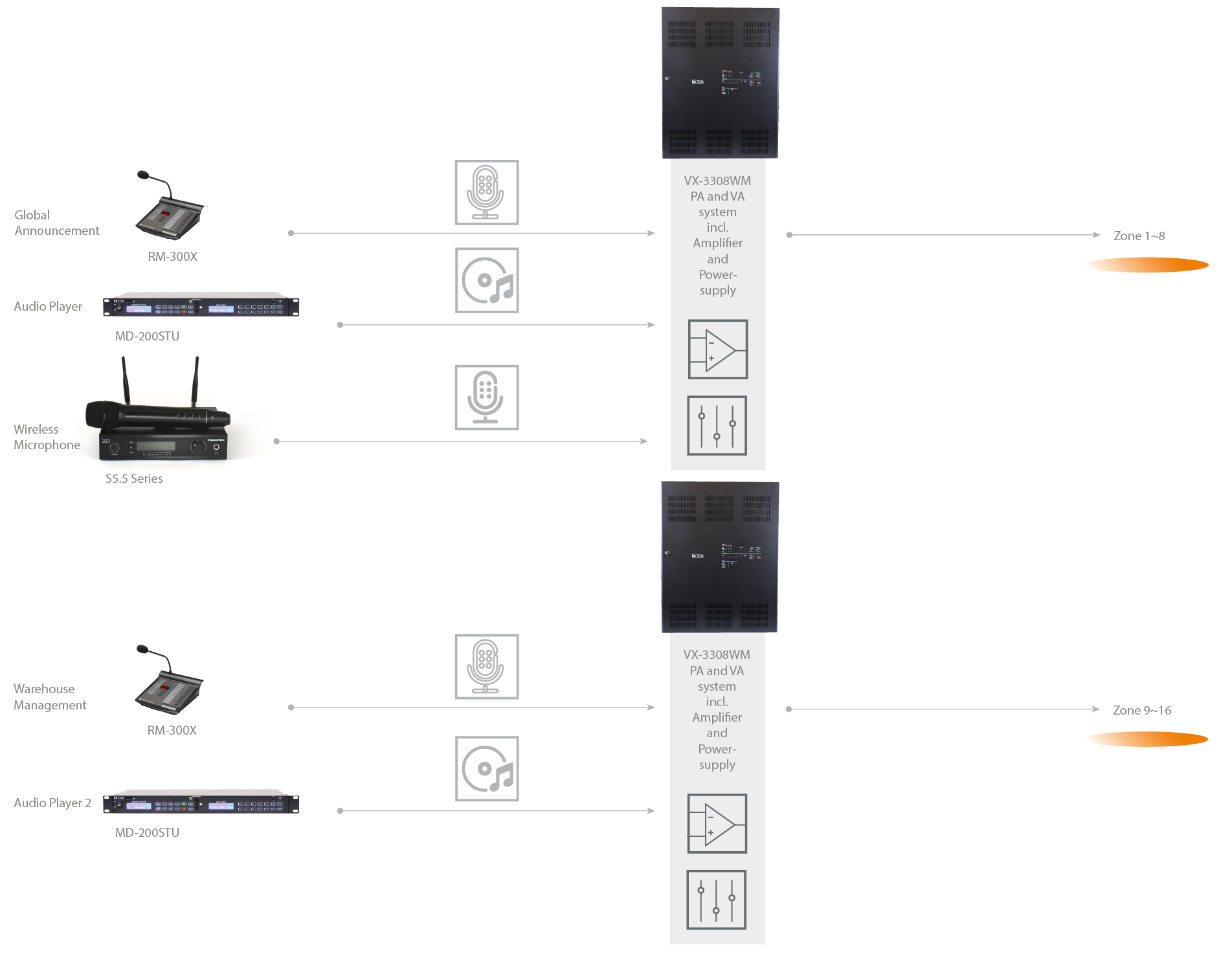 ---
Special Cases \ Individual Audio Routing - DIGITAL MATRIX MIXER SYSTEMS + AMPLIFIERS
Of course, your projects are individual, and may not fit in the use cases mentioned before. We are always happy to find your customized solution.
For example if you have a multi-purpose-room, you have different scenarios with special requirements to the system. Imagine a room separated by a variable wall: In general, you need both parts of the room to be fully independent; but if rooms are combined, you want uniform sound in both parts. This can be dealt with the pre-saved scenes of Digital Mixer M-9000M2. You may scale your system for up to eight audio in- and outputs while multiple cards allow to create your own highly customizable design. Moreover, it comes with a Control Interface, which offers possibility for automation. Of course, you can also use wall-mounted terminals to easily operate the system remotely in the zones itself.

Or you may be focusing on live events. For this, the rack-mounted console design of Digital Stereo Mixer M-864D gives you maximum manual control during the performance. It comes with faders for each in-and output and a dedicated IPad-App. DSP include Feedback suppressors for your wireless microphones, compressors, EQ and more. Sound control may be even extended by Digital Audio Processor DP-SP3 for speaker cross-over and delay, or Ambient Noise Controller DP-L2 for automated level adaption to different noise floors. For speaker output, you can use high power Line Arrays SR-S4 and Subwoofers FB-150 using Digital Power Amplifiers DA-550F for Low-Z speaker connection.

Please do not hesitate to contact us for your individual project!
---